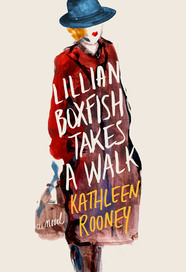 Lillian Boxfish is spending New Year's Eve 1984 walking the streets of Manhattan and at age 85 or thereabouts, it might be good exercise, and it might be a wee bit dangerous. It definitely will be a time for her to tell us about her life as not only the highest paid advertising woman in the country in the 1930s, but also about Max, her only real love; Giano her son, and the rest of her life. This novel is inspired by the real-life ad lady Margaret Fishback who worked her magic for Maceys and did indeed get books of poetry published.
I loved her! Lillian is my kind of gal. And New York is my kind of town. If you have visited New York, you should recognise some of the stuff within these pages. If you have not, but are a film buff, or if you watch American TV programmes set in NY you will be familiar with street names and locations. Even if you are not familiar with the Big Apple, you may like the story of a woman's entire grown up life, in less than 300 pages. Alternate chapters tell her story in the present and the pass and I do enjoy that kind of writing.
My only gripe is with the UK cover. What the hell is that? The cover above is that of the copy I bought in North America - and today I found the one below on Amazon which certainly does not look like the character of the book title, considering that it was winter and she went out on the street wearing a full length mink coat, not a 3/4 length fabric - but what do I know? What I do know is that I like the US cover so much better than this one!! But whatever the cover, please don't let it put you off, this is a wonderful read.