Visiting micro breweries - now that is fun! We did two on our hols, and tasted samples at both of them. Have a look at the
Boxing Rock Brewing Company
which we found at Shelburne. Boxing Rock has some lovely beers, Mr Mac liked "Hunky Dory" very much - a pale ale full of flavour with, of course, a very suitable name!
Also there's a newer brewer (!)
Tusket Falls Brewing Company
whose Golden Ale, "Crack of the Rock" is a lovely light beer. They are very experimental - they have a smoked ale - "Smoked Kiack", and an extraordinary kettle sour - "Left Right Here" which may be the oddest beer we have ever tasted, but would I think, be lovely ice cold on a hot day.
Shelburne is a small but interesting town on the NS south shore... Go and see how traditional fishing dories are made. And how about a gift shop with fine dining in the back room?
We ate here one day
and still want to know what was in that sauce that was served with scallops and pasta... tomato base, possibly some cream added, but what? what? what else?
So a few days left. Exploring is good. We had a look at the map and decided on an old road (203) between Carleton (above Yarmouth) and Shelburne. It is right on the edge of the Tobeatic Wilderness Area and has a really bad road surface.... but as there is next to no traffic we drove mostly in the middle of the road. There are maybe five hamlets on the map, which consist of 5 or 6 houses, but it was a fascinating area to discover. You can take a holiday out there somewhere in
Trout Point Lodge
but it had no appeal for us, off the grid...... but with expensive food! They have their own astronomer, and they are in the midst of one of the few
Dark Sky Areas
in the world. That's a lot of stars ......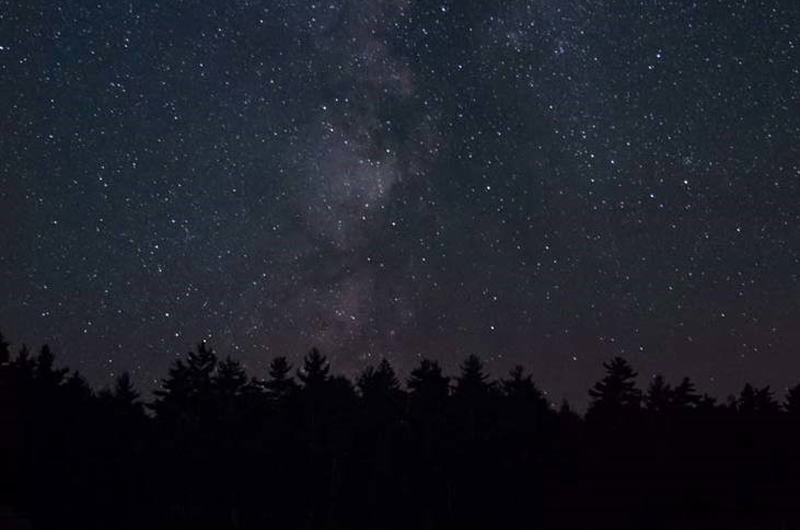 But any road you have never travelled before is interesting. And because it is the only road that touches the Tobeatic Wilderness Area it was worth the drive.
The reason behind this drive and a few places we visited (which I'll tell you more about in part 6) was a book called
Waking Up In My Own Backyard by Sandra Phinny
. Sandra Phinny decided that she'd take a month and visit places within a 100km radius of her own home. She found loads of stuff and took great joy in telling her readers about it all. Colette had read it and left it out for me to read. Sadly I didn't make it to the end, but it will be there next time I go.
Phinny mentioned a tiny library, which happened to be in the village of Carleton, where we turned off to start the Wilderness Drive. Here's what Sandra Phinny said about the Durkee Memorial Library in Carleton which was built in 1938. "The library is an eight-by-five-metre log cabin painted grey with green trim, and sits on an elevated ridge on Route 340 that passes through the village. There are maples, oaks, birch, pine, even a chestnut tree surrounding its sides and back. I've driven by the library hundreds of times but have only crossed its portals once – some thirty years ago, when I borrowed two books and never returned them". So she visited, and so did we. Closed until the season starts, but we could certain peer in through the glass door and if I pass that way again, I am definitely going in!